Yachts: Find one that best suits you !
Sailing on the Côte d'Azur is a fabulous experience. You'll have an unforgettable time enjoying beautiful scenery along the French Riviera in the comfort of a luxury boat. To ensure you get the most out of your Mediterranean cruise, it is essential that you choose a yacht that's right for you and for what you would like to do.
A sailing adventure for two
Looking for a romantic getaway? You don't need to take a large boat. A boat under 20 metres long is certainly large enough, given the on-board facilities are the best you could wish for. You'll only need one double cabin which will be fitted with a king or queen size bed depending on which you choose.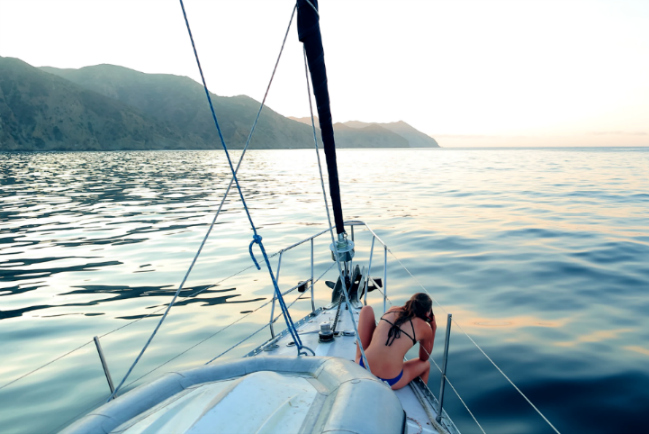 If you are both water sports enthusiasts, you can reserve a boat that comes with stand-up paddle boards, wakeboards and snorkelling equipment for instance. You'll have the opportunity to explore the seabed and spend time relaxing together overlooking natural landscapes with wonderful wildlife and lush vegetation.
As the crew members will take care of the technical side of things during your trip, you'll having nothing else to do except have a great time on this getaway for two. You're sure to love the cosy on-board living room for romantic moments together sheltered from the sun. The fully-equipped kitchen is also really handy for rustling up your favourite meals. Enjoy a romantic meal for two on deck. In fact, just see how the mood takes you.
A luxury yacht trip
Have you ever dreamt of visiting Monaco, Cannes, Nice and St Tropez? Do you dream about taking your holiday by the sea with family or friends? Why not charter a luxury yacht? You can easily find a luxury boat that can accommodate up to 36 passengers. You can choose how long you would like to sail for and where your port of destination will be.
Take a look at the information sheets about each boat. You'll also find information about the number of cabins, the type and number of beds on board, the activities you can plan to do with those close to you and a lot more. Go offshore fishing, test your skills at kitesurfing or book some water-skiing sessions.
You also have the opportunity to enjoy partying on these prestigious boats. The space available is in fact big enough to hold parties with some music, dancing, fun and frivolity.
Each yacht has its own special features. First think about exactly what you're looking for and what you require to ensure you make the right choice, This will make it much easier for you to find the boat of your dreams.
To really capture the moment, take a look at our helpful tips for taking great photos on holiday!